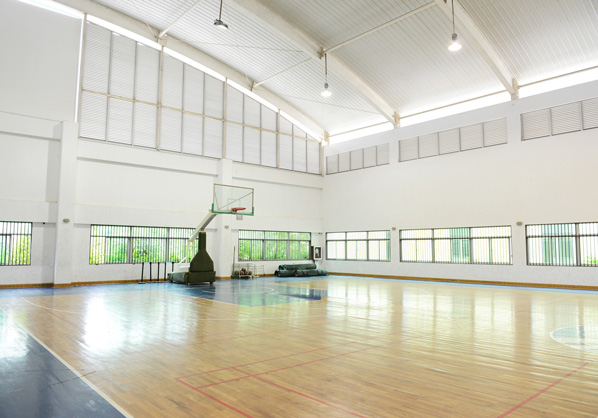 That can withstand anything.
The consultative side of Design Strategies has led us down some unique paths. Recently we were tasked with creating an acoustical ceiling for a gymnasium that could withstand impact.
An architect approached us with concerns that the ceiling they specified and built might fall onto students in a New York City public school gym. The kids in the gym were hurling basketballs and other objects at the ceiling, and once they realized that they could knock the "Impact Resistant" tiles loose from the suspension - all hell broke loose.
For a surface to be impact resistant, it must fulfill two basic requirements:
The properties and face are not damaged when struck with force
It does not move even a centimeter when struck with any object
The problem with the NYC school project is that the architect was under the impression that "Impact Resistant Ceiling Tiles" - by Armstrong, Rockfon, or others - would fulfill these two requirements. Unfortunately, while the face of the tile may have been preserved, the suspension system allowed the tiles to be banged out of place by whatever was being thrown at them.
The system we developed to solve this problem was truly impact resistant, downward accessible, and offered high acoustical properties. Sky Acoustics Impact Resistant Panels.
Sky Acoustics - Impact Resistant Panel System (IRPS)
We realized that to be truly impact resistant, the suspension system was just as important as the face of the panel. Our modified torsion spring system is downward accessible, meaning that anything that tries to move it upwards will be fighting against the entire ceiling, not just 2'x2' of it.
The face of the panel is an acoustical veil with a perforated copolymer that can withstand even the toughest impacts. The panel has an aluminum edge and a 1/8" reveal, with NRC of up to 0.90. The system is curerntly being installed in a CUNY school, and photos of the finished product are to follow.
Contact design strategies for more information regarding impact resistant ceilings for use in gymnasiums, cafeterias, school corridors, or other locations. Whether you're in design development, or need a broken ceiling fixed quickly - we're here to support your efforts.
dylan@dsfinishes.com
888.692.7377