The use of sturdy and fire-resistant materials has become more and more important to architects and owners, and for good reason. This means that manufacturers have had to increase their standards to meet those expectations. One area with stringent regulation is fire-resistance. The American Society for Testing and Materials (ASTM) fire and flammability standards are involved in the testing and evaluation of the ignition, burning or combustion characteristics of certain materials. These fire and flammability standards are instrumental in the establishment of building codes, insurance requirements, and other fire regulations that govern the use of building materials.
When evaluating building materials for fire safety, many factors including ignition temperature, smoke toxicity and flame-spread are considered. Flame-spread, used to describe the surface burning characteristics of building materials, is one of the most tested fire properties of a material. The best known test for developing this rating is the American Society for Testing and Materials (ASTM) Test Method E-84, commonly known as the tunnel test.
The tunnel test measures how far and how fast flames spread across the surface of a test sample. In this test, a sample of the material 20 inches wide by 25 feet long, is installed as ceiling of a test chamber, and exposed to as gas flame at one end. The resulting flame spread rating (FSR) is expressed as a number on a continuous scale where inorganic reinforced cement board is 0 and red oak is 100. The scale is divided into three classes. The most commonly used flame-spread classifications are: Class I or A, with a 0-25 FSR; Class II or B with a 26-75 FSR; and Class III or C with a 76-200 FSR.
Interior wall and ceiling finish materials are grouped in classes in accordance with their flame spread and smoke-developed indexes. The classes are:
Class A: Flame spread index 0-25; Smoke developed index 0-450
Class B: Flame spread index 26-75; Smoke developed index 0-450
Class C: Flame spread index 76-200; Smoke developed index 0-450
Some of the Most Common Ceiling Types are the Most Fire Resistant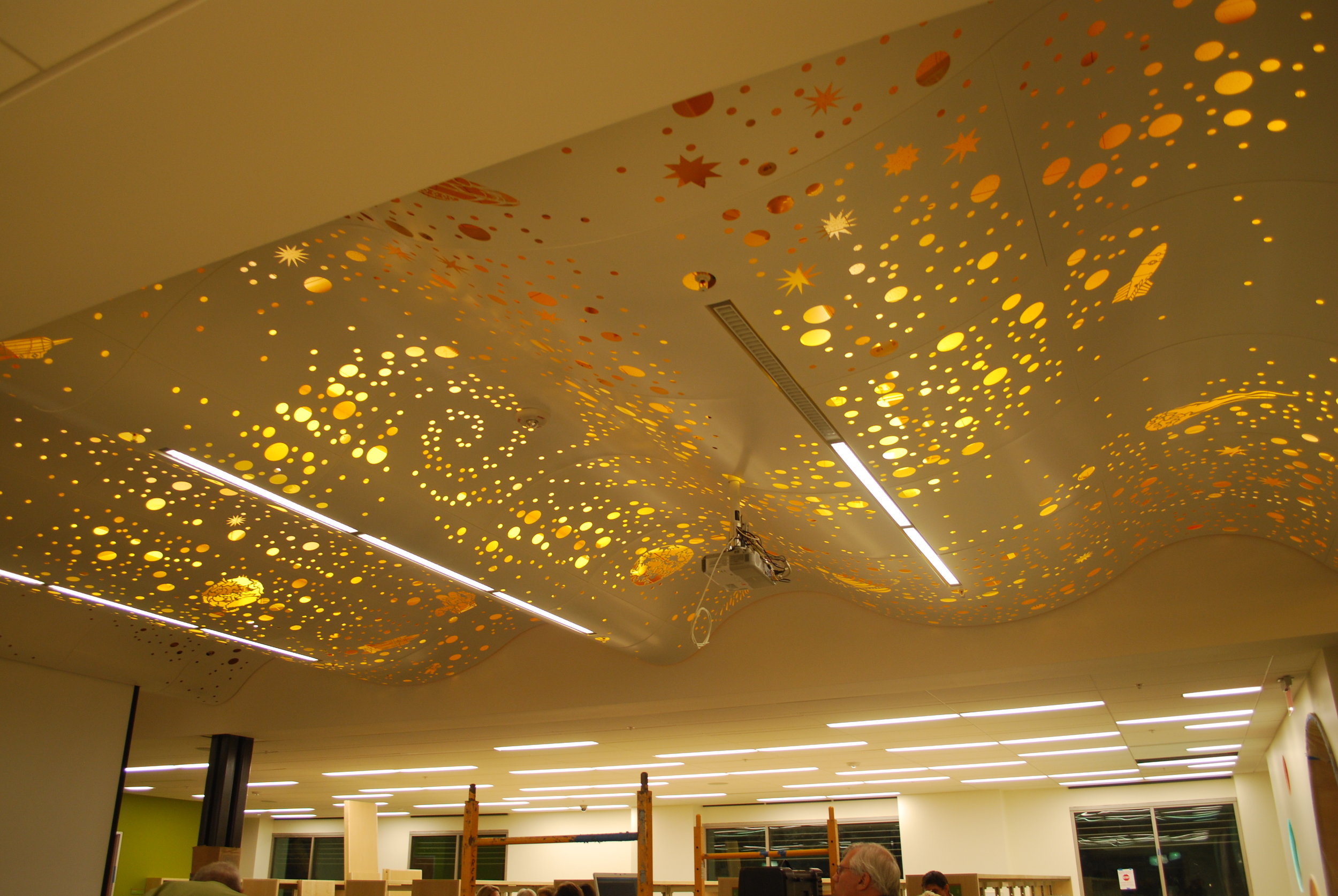 Metal Ceilings, such as those from Accent Ceilings, are inherently fire resistant and non-combustible. Luckily, they are not only one of the most fire-resistant ceiling options but also some of the most visually stunning. Making them a fantastic ceiling option for a variety of application.
Another classic statement ceiling is a wood ceiling. Wood can be used in fire rated areas as long as certain precautions are taken. Solid wood products can have a fire retardant finish. If veneer is selected a special fire-rated core can be used to achieve very low smoke development and flame spread ratings. ACGI can create a real wood ceiling system which will have a Flame Spread of 20 and Smoke Developed of 25, which should be sufficient for even the toughest building codes.
Stretch ceiling material, like that from NewMat, can be used in a variety of ways. This makes it the most versatile product with a Class A rating on our list. If more flame resistance is requested or required a special membrane can be used to achieve a 0 Smoke Developed and 0 Flame Spread rating. This special membrane is useful for places with more stringent requirements like an egress in China.
Acoustical ceilings are able to snag a Class A rating. Due to the versatility in design of acoustical ceilings with their Class A rating they are often the most optimal for a variety of ceiling construction applications.
More information and ASTM fire test reporting available on request.